ME Association Press Release, May 2019.
Hidden for too long behind closed curtains, sufferers of the cruel and unrelenting disease M.E. are bravely speaking out during ME Awareness Week (6-12th May) in the hope of ending the ignorance, improving medical care and and seeing an increase in biomedical research funding.
The disease manifests as post-exertional malaise, unrelenting exhaustion, muscle fatiguability, profound pain, sleep and cognitive dysfunction as well other symptoms that combine to drastically reduce a person's ability to function.
This often-misunderstood disease M.E. (Myalgic Encephalomyelitis/Encephalopathy) is destroying the lives of 250,000 people in the UK and is the commonest cause of long-term absence from school.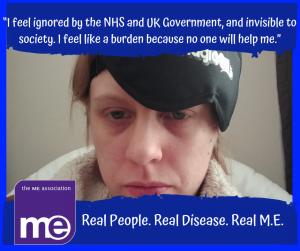 One in four people are so severely affected that they are rendered housebound or bedbound – with some being reliant on 24-hour care.
They are often confined to their beds, unable to walk, are extremely sensitive to light and sound and can require tube feeding.
Even minor exertions – such as talking, reading, sitting up in bed or trying to stand can result in worse symptoms and trigger relapses.
There is no known cure or effective treatment and worse still, there remain vast misconceptions – even in medical circles – that ME is 'made up', 'in the mind' or even 'just laziness'.
This is despite a wealth of research evidence to the contrary and recognition by the UK Government, National Institute for Health and Care Excellence (NICE) and The World Health Organisation (WHO).
 

"To look at these people – men, women, children – and to read their individual tragedies only further serves to ask the question: 'Why is M.E. still not being investigated with the urgency it so obviously requires?'"

 

"We want to tell the world about the Real People that suffer because of this Real Disease – day after day, week after week, year after year, and in some of the cruellest cases, decade after painful decade."

Neil Riley, Chairman, ME Association.

 
Less than £1 is spent each year on medical care for people suffering from M.E. and there is a chronic lack of central funding for biomedical research. Many doctors still don't know how to diagnose or manage the condition.
Parliamentary debates led by Carol Monaghan, MP, have served to raise awareness of the key issues but more action is urgently required. The devastating effects of M.E. have led to a documented risk of suicide that is well above average and deaths from M.E. have been recorded.
Real People. Real Disease. Real M.E.
This week, national campaigning charity the ME Association is presenting the Real faces of hundreds of ME sufferers – all wanting to demonstrate how this Real disease has had such a devastating impact on their lives and raising issues that they feel are most important.
The ME Association is at the forefront of improving access to care, treatment and research and wants to see any remaining stigma removed once and for all.
 

"M.E. remains a largely hidden disease. There is a lack of medical care and no effective treatment – and yet it can lead to greater functional impairment than multiple sclerosis or cancer."

 

"The most severe sufferers are often the most hidden. A lot of people are forced to give up and they can't continue the fight to raise awareness and try and improve the situation. There's a higher risk of suicide within the M.E. community."

"People find it hard to understand how something like this can happen in this day and age. We desperately need greater recognition and acceptance, improved medical care and more biomedical research to give people a fighting chance of reclaiming their health; and once again becoming productive members of society."

Dr Charles Shepherd, Hon. Medical Adviser, ME Association.

 
ME Awareness Week – 6-12th May 2019
The images below (that continue on this page) have been taken from the ME Association Real M.E. campaign along with quotes from the brave individuals who sent us their photos. We have also included images and quotes from Dr Shepherd, Carol Monaghan MP and Dr Nina Muirhead along with key quotes from research published by the ME Biobank.
All these images will be used by us on our social media platforms during ME Awareness Week and until the end of May 2019. If we receive new photos and contextual stories we hope to continue this campaign as an ongoing project. Please share the images as they appear on our social media or you can copy the images below and circulate them to your own networks and join us by helping to ensure our collective voice is heard!​
| | | |
| --- | --- | --- |
| BBC Newsbeat. | Dr Shepherd. | Dr Shepherd. |
| Carol Monaghan. | Carol Monaghan. | Carol Monaghan. |
| Dr Shepherd. | Dr Muirhead. | ME Biobank. |
| ME Biobank. | ME Biobank. | ME Biobank. |
| ME Biobank. | ME Biobank. | ME Biobank. |
The ME Association
Please support our vital work
We are a national charity working hard to make the UK a better place for people whose lives have been devastated by an often-misunderstood neurological disease.
If you would like to support our efforts and ensure we are able to inform, support, advocate and invest in biomedical research, then please donate today.
Just click the image opposite or visit our JustGiving page for one-off donations or to establish a regular payment. You can even establish your own fundraising event.
Or why not join the ME Association as a member and be part of our growing community? For a monthly (or annual) subscription you will also receive ME Essential – quite simply the best M.E. magazine!
---
ME Association Registered Charity Number 801279
---